Wedding venue Castello Il Palagio is a medieval Tuscan castle of the 13th century. It has a beautiful large garden that can host many events as weddings, gala dinners, cultural activities and parties.
Our castle in Tuscany Castello Il Palagio is located in the Chianti countryside, overlooking the majestic hills with vineyards and olive groves. Castello Il Palagio is the perfect wedding location for your wedding in Italy.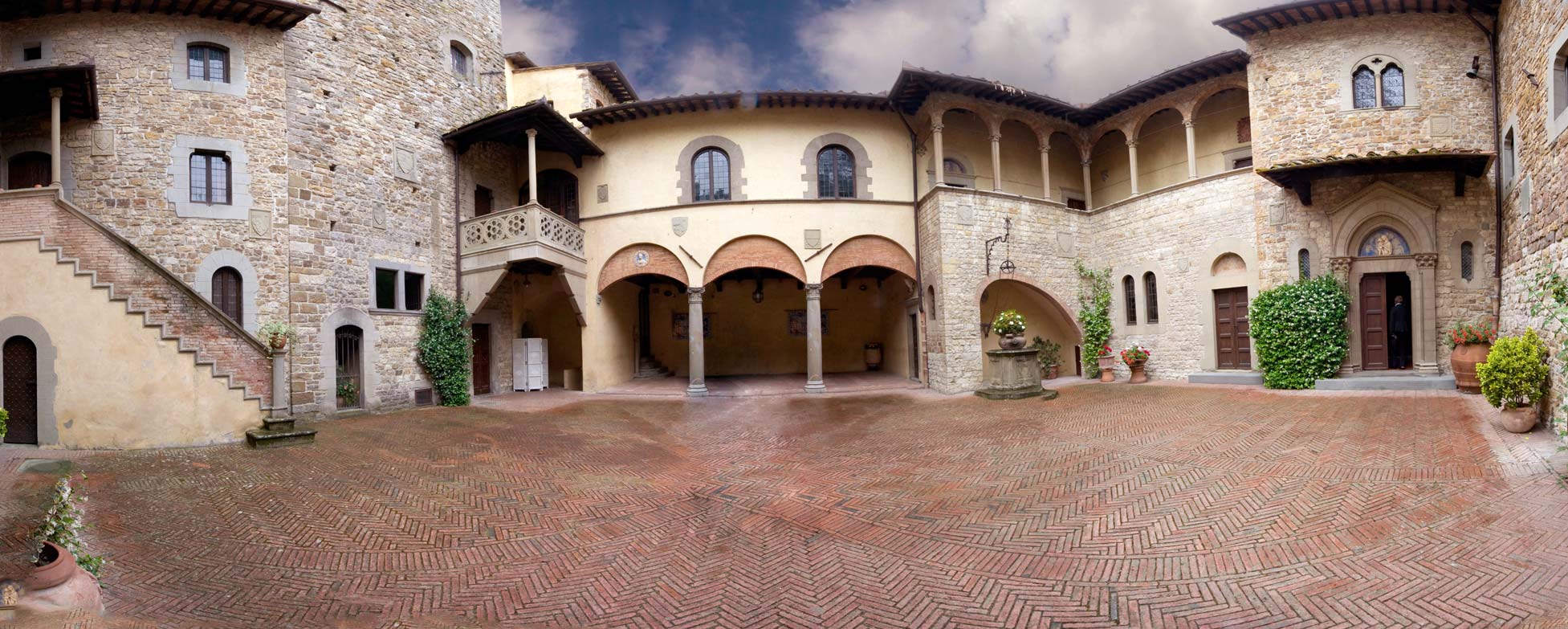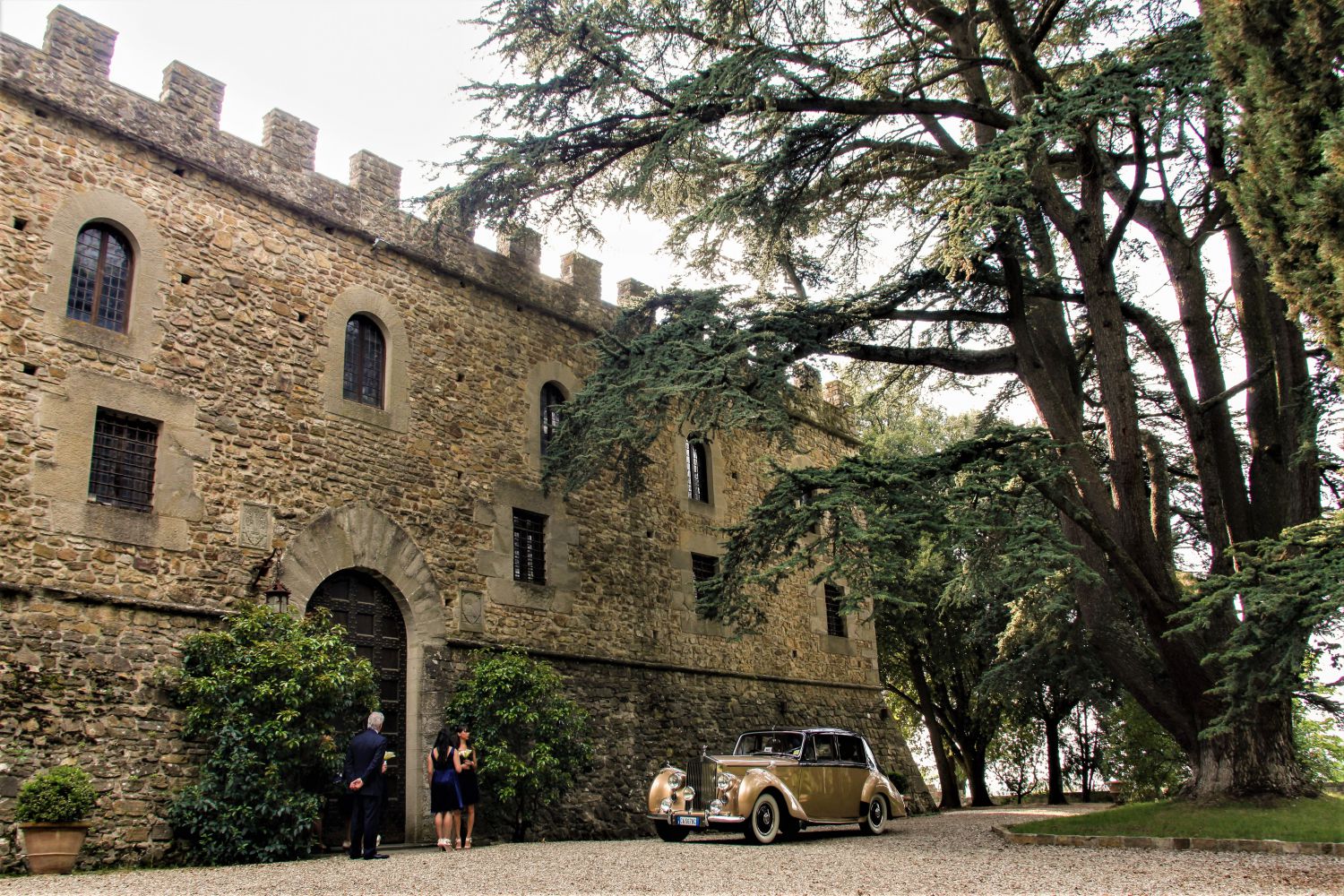 Castello il Palagio is just 17 kilometres from Florence, near San Casciano Val di Pesa. The history of our family goes back to the 1200 century, and in 1623 we inherited the ancient dynasty of a Florentine family and this majestic castle in Tuscany as well.
The luxury location in Tuscany, Castello Il Palagio, is the perfect venue for all your events: private party, weddings in Tuscany, conferences, private events, fashion shows, birthday party, bridal showers, meetings, dinners, TV movie set and so much more!
The main courtyard of Tuscan Castle Il Palagio, with its loggia, can accommodate up to 180 people and it can be a magically decorated setting for your wedding in Tuscany with a chic luxury reception in the Tuscan countryside.
Our castle in Tuscany Castello Il Palagio is ideal for any outdoor event: buffet dinner, cocktails, fashion shows, a coffee break or a dancing party. Even the fanciest dinner gala can be held at our location in Tuscany. You and your guests will be sitting in the shadow of our main tower, enjoying drinks and having the night of your life!
The Castle can be adapted to every occasion: set up with tents, removable covers, tables, and chairs. The central courtyard has a width of 185 sqm.
The Loggia has a width of 50 square meters. It can host any musical event, thanks to its wonderful acoustics, in case you want to have a live band playing.
Castle in Tuscany Castello Il Palagio has its own private chapel, inside the courtyard. You can have a wonderful and intimate wedding celebration in our ancient and characteristic chapel.
The Hall of Arms: beautifully furnished with an antique fireplace and finely decorated interiors. Two monumental family trees are located in this room, adding a touch of antiquity and royalty to our Tuscan castle. The hall is a large room that can host all your guests or your colleagues for any type of event, it is ideal for lunches and dinners. It can even be combined with the main central court that gives you so many more options: it can be transformed into a dancing space as well.
Capacity: 70 people seated in round tables, 50 people seated at an imperial table, 100 seats, as an auditorium
Dimension: 74 square meter
Guard of the courtyard: the front room is the Guard of the courtyard and can be combined with the Hall of Arms; it is ideal as a dining room/dinner to enjoy aperitifs with your friends and colleagues in a beautiful ancient castle in Tuscany.
Capacity: 30 people seated
The Loggia: can be used as a space for music, a band or a presentation for a convention or for a fashion show! There are so many things that you can do in our loggia.
Dimension: 50 square meters
The Red Hall:located on the first floor, it overlooks the courtyard and the Chianti countryside. It a very spacious and luxuriously decorated hall. It can accommodate up to 30 people seated at tables, including antique furniture and paintings of ancestors. Has a width of 30 square meters.
Dimension: 30 square meters
The Yellow Hall:located on the first floor, accessible from the stairway that leads to a beautiful veranda overlooking the courtyard. This hall is ideal for the launch of the bouquet, a chic lunch or a meetup. It accommodates up to 32 people seated at the table. Has a width of 33 square meters.
Dimension: 33 square meters
Castello Il Palagio, today a wedding venue in Chianti region of Tuscany, is very ancient: it supposedly dates back to 1252 but we have reason to think that it is much older. In the area there are Etruscan and then Roman settlements.
Thanks to its position, located on the fortified line that runs from San Casciano to St. Andrea a Fabbrica, and size, Castello Il Palagio has survived and protected people from many incursions over the centuries. It indeed was very important in the defence of the territory, with its thick fortified walls and the high tower - the keep - has also withstood the test of time in spite of other more recent buildings.
In the 1320 Tuscany medieval Castello Il Palagio was enlarged to almost double its starting size, and it was actually much bigger than it is to this day. This strengthened its position as a defence castle in the area and became a good point for offensive actions.
Castello Il Palagio was a Florentine's Republic stronghold for over two centuries and after the Medici family gained again control over Florence in 1530, it was given to the Canigiani family (1563) . In the 17th century was bought by the Miniati di Dino family who transformed it into a mansion and decorated it with the finest art pieces. It was then that this Tuscan castle begun to acquire its final looks and aura, to become the wedding venue that we can admire today.
Right at that time, magnificent trees were placed around the walls and the garden became bigger, until they reached their peak beauty in the 17th and 18th centuries.