Castello Il Palagio is the ideal castle wedding venue in Tuscany, if you want to get married in Italy! It is located in the Chianti area, surrounded by vineyards and olive groves. Just figure your wedding day at Castello Il Palagio, being served a rich buffet with the noble and luxurious interiors, feeling like royals.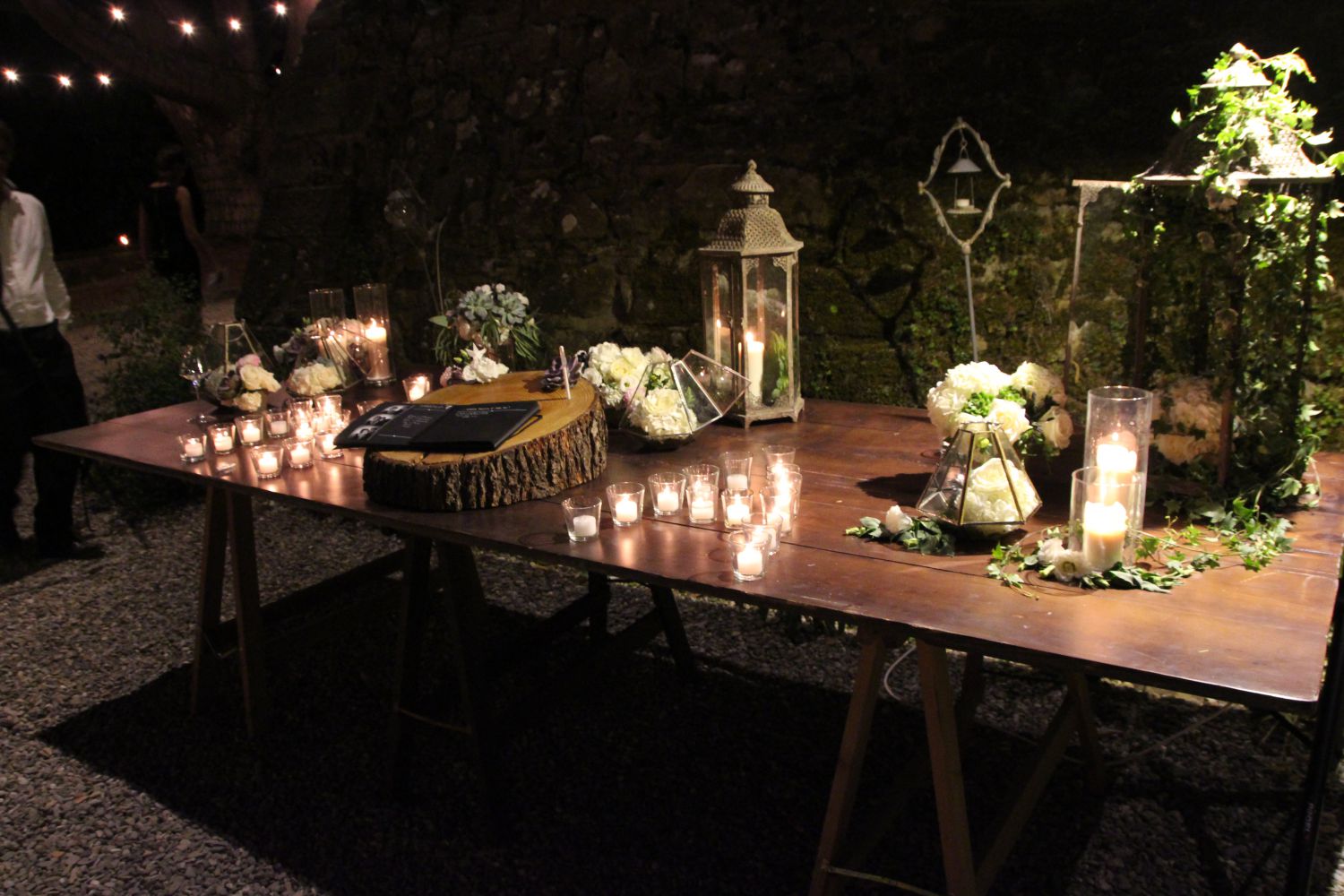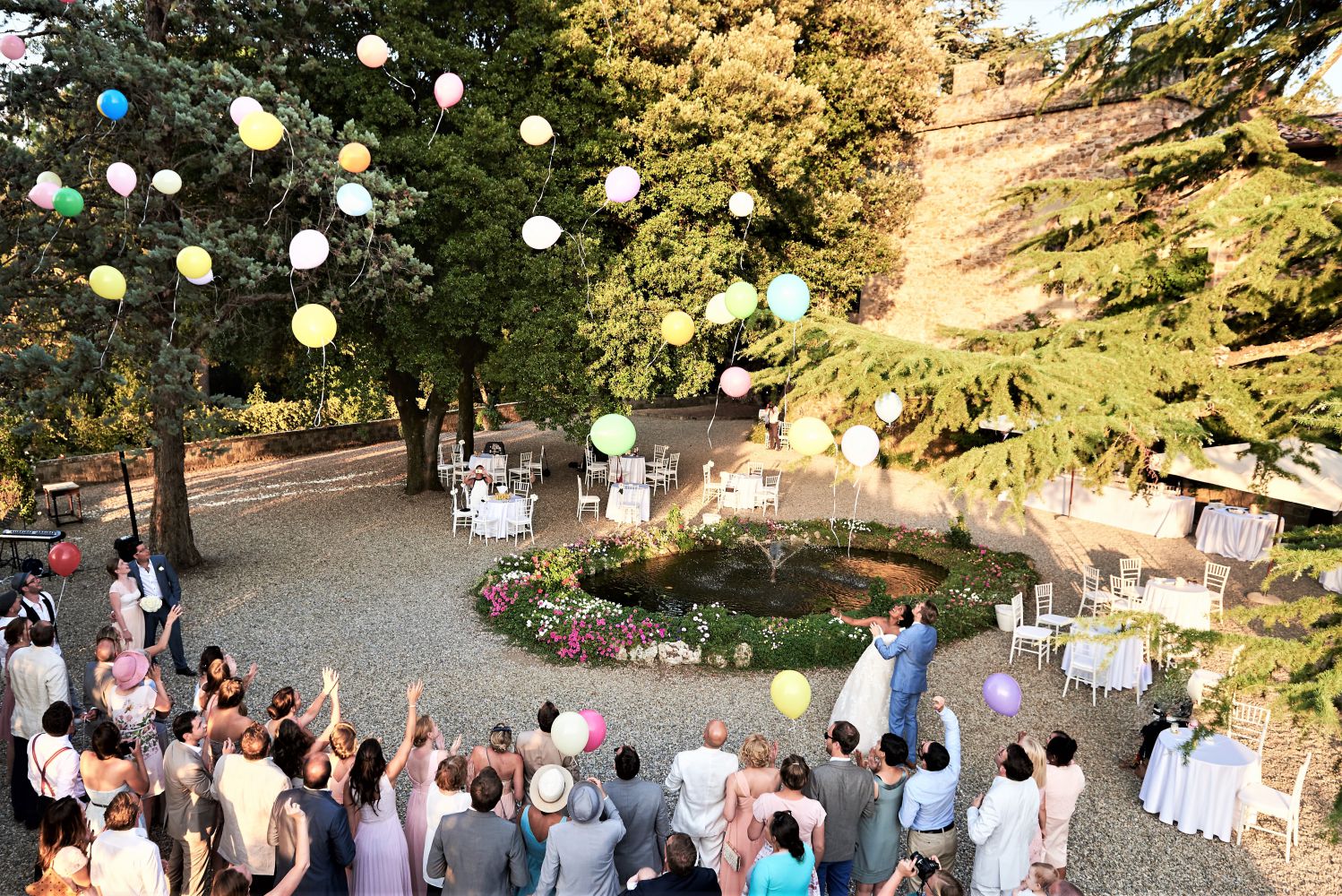 The fireplace going and your guests gazing out at the courtyard lit by hundreds of candles and torches.
We can decorate the castle based on your wishes: if you have a theme in mind for your wedding in Tuscany, we can transform the castle accordingly.
We have a stunning park, with gardens "all'italiana", the driveway that leads to our Tuscany castle is just magical and the amazing entrance for your guests who will have a glimpse at our castle and be in awe.
Wedding venue in Tuscany Castello Il Palagio has a small consecrated chapel as well. An intimate, old and royal-looking chapel that overlooks the courtyard.
At Castello Il Palagio you can have a real medieval castle at your disposal and celebrate your wedding in Tuscany!
Wedding Party in Tuscany
Celebrate with your closest friends and relatives in one of our halls at castle in Tuscany Castello Il Palagio.
You will enjoy your most special day and in the meantime you will give the chance to the people you love the most to visit Tuscany and celebrate a wedding party in the Tuscan hillside! Enjoying a glass of wine from the local vineyards with your bridesmaids and groomsmen, in the shadow of our main tower, is priceless and wonderful.
Have your wedding party at our castle in Tuscany Castello Il Palagio and enjoy an amazing experience.
Wedding Ceremony in Tuscany
Think about marrying in Tuscany? What about a castle wedding?
Castello Il Palagio will be a fantastic location for your wedding in Italy. This region has innumerable places of worship, full of history that allow spiritual ceremonies to be held, surrounded by the beauty of Tuscany.
Our castle in Tuscany Castello Il Palagio has a private chapel that can host a few people for a very small and intimate wedding in the Chianti countryside. The chapel's architecture perfectly fits in the whole castle setting and marrying at castle's chapel will make you feel like a royal, surrounded by the Tuscan hills. The chapel can be decorated with flowers, lights and different seats set according to your wishes!
For some years, it is also possible to marry with a civil ceremony at our castle.
[In the picture tuscanpledges celebrating]
­
Wedding Reception in Tuscany
If you are looking for a wedding venue in Tuscany to have the most perfect wedding reception, you came to the right place: Tuscan Castello Il Palagio has many majestic halls that will leave your guests in awe!
Our Hall of Arms can hold up to 70 guests seated and combined with our other spaces, like the Loggia or our Hall of Guards, can really be a wonderful setting for your wedding reception! Many of these spaces can be transformed into dancing areas during any kind of celebration.
Marrying in a castle in Tuscany is amazing on its own, but marrying at Castello Il Palagio is unforgettable!